You've finally found the horse you've been searching for. His temperament and ability are well suited for your discipline, and you're ready to begin the training and showing process. As you begin your journey together, you discover that despite his best efforts, your partner is not handling the increased stress well. He's become unfocused and overreactive, and you've become frustrated.
Equine stress and anxiety are among the most difficult training issues horsemen can encounter. Rather than simply trying to ride through it, or lunge through it, you may be able to support your horse nutritionally to help alleviate the cause of the behavior.
In this post we'll discuss the three most common causes of equine anxiety, and describe how Perfect Products formulas might help you to work through them.
1. Gastrointestinal Upset
It's no secret that stressful environmental and training practices can create increasing demands on your horse's gastrointestinal system. This can manifest in ulcers, diarrhea, colic and general nervousness. Horses may begin to react negatively to tacking up, act out under saddle or even resist entering the show ring, causing the rider or trainer to apply more pressure to perform. The result is a cascading cycle of disappointing results.
If you recognize these behaviors in your training process, you may first want to contact your veterinarian and have a diagnostic workup to determine if the gastrointestinal tract is the main cause of your horse's agitation.
For horses under stress caused by gastric upset, Perfect Products created the total digestive support formula GastroEase EQ. GastroEase EQ contains gastric buffers to mitigate stomach acid, tissue soothers to relieve gastric lining pain caused by ulcers, a wide variety of probiotics and prebiotics and hindgut support. By maintaining optimal digestive function with GastroEase EQ, you can eliminate one of the most commonly overlooked causes of equine stress.
Horsemen who've used GastroEase EQ on their problem horses are often surprised to see those horses' behavior improve quickly, because they've treated the major cause of their anxiety.
2. Undiagnosed Pain
When working through behavioral issues, it is important to investigate undiagnosed discomfort as a potential cause for the behavior. We recommend working with your veterinarian, farrier, and examining your horse's tack to locate possible causes of pain.
If your horse is reacting negatively to everyday stiffness and soreness from training and showing, Perfequin may be beneficial. Perfequin provides natural anti-inflammatory ingredients as well as essential amino acids that have been shown to produce effective analgesia in horses.
While it's common to manage pain with NSAID's and steroids, horses respond to long term pain management with gastrointestinal, kidney and liver issues. Because Perfequin is completely benign to these systems, it offers an ideal means for managing general or long term pain issues. It is also clean for FEI use so you can use for extended periods of time or stack with NSAIDs as rules permit.
3. Over-reactivity to Stimuli
The horse's nervous system is hardwired for flight in response to fright. Some horses are simply more prone to this fright-flight reaction than others. Over-reactivity to the show environment can be career ending to an otherwise talented horse, and even pose a danger to himself and those around him. If your horse is unable to overcome his fears, the Perfect Prep Calming System is a versatile solution for managing your horse's reactivity. Whether starting with a basic stabilizing formula like Training Day, or using the complete management of Sane & Sound Max Paste, Perfect Prep formulas offer show safe solutions for all levels of equine anxiety. Click here to read about the Perfect Prep Calming System and where to start.
A Combination of Factors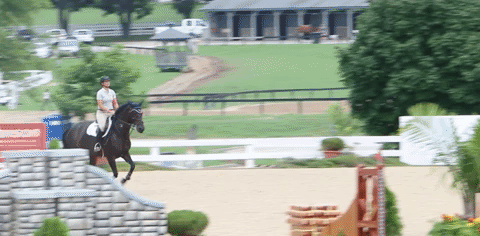 Because many horses deal with all three of these causes of stress, Perfect Products created Perfect Prep EQ Sane & Sound. Perfect Prep EQ Sane & Sound pellets and paste address gastric discomfort, general aches and pains and the fright-flight reflex in one show safe pre-event formula. By administering Sane & Sound prior to your event, you can help alleviate all three major causes of equine anxiety so he can focus on his job.
We hope this information helps you address the cause of your horse's stress and anxiety. If you have any questions about Perfect Products formulas, or to discuss your horse's needs in-depth, please give us a call at 877-324-8002 or email us at info@perfectproductseq.com.